It's every Potterhead's dream to attend a Yule Ball with fellow witches and wizards.
I mean, who wouldn't? All the lavish dress robes and enchanted meals only come once every five years in the Wizarding community. I know for a fact that if I were a part of it, I would have wanted to wear my best gown to the Yule Ball and dance with a dapper wizard like Cedric Diggory.
It all seems like make-believe, but it's actually happening in the Philippines once again as Patronus Events Inc., along with Privatus Private Dining and Plato, will host a Yule Ball this December 14 at La Castellana, Cabildo corner Beaterio Streets, Intramuros, Manila.
Expect the full experience as Potterheads alike have carefully curated an event that's as real as it could ever be! The first 250 witches and wizards will be able to attend this one-of-a-kind Harry Potter experience. Set in a castle-like building in Intramuros, you're sure to feel the magical bliss of being in Hogwarts.
In the words of Professor McGonagall, "since its inception, we and our guests gather in the Great Hall for a night of well-mannered frivolity."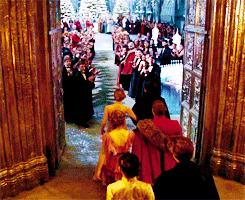 A chance to let your hair down
The Yule Ball is first and foremost a dance. So this Harry Potter-inspired event is expected to be attended by witches and wizards, champions and partners in their best ball gowns, dress robes, and character re-creations. A live band will serenade guests, playing music from the iconic films. So dust off your dancing shoes to waltz the night away! Not only that, but the attendees will feast on culinary creations masterfully prepared by Plato and Privatus Dining.
Luckily, the house elves were nice enough to let me have the first try of everything on the menu for this year's Yule Ball. So if you don't have an appetite as big as Ron Weasley's, let me just run down my favourites briefly so you know which dish to put on your plate first!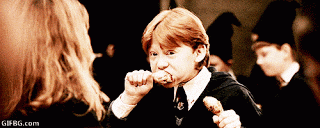 Gillyweed Salad
My personal favourite is the Gillyweed Salad. The Executive Chef of Privatus Private Dining, Antonio Jose Reyes, made sure to make the Gillyweed Salad look as authentic as possible! I can assure you that it doesn't taste as disgusting as the one from the movie, as it's made with seaweed, onions, and squid!
Cauldron Soup
Create your own Polyjuice potion with the cauldron soup! Fill your bowl with the soup straight out of Snape's cauldron and mix it with the potion ingredient of your choice! They have lacewing flies, powdered bicorn horn, and shredded boomslang skin!
Molly's Magical Meat Pie
You simply cannot skip on Ron Weasley's favourite dish–his mum's magical meat pie! This English dish is made with bacon, oxtail, and Molly's secret ingredients. It will definitely fill your tummy.
Hogwarts' Christmas Ham
Is it really Christmas without the Hogwarts Christmas ham? It's best eaten with roasted vegetables straight from Hagrid's garden!
Butterbeer
Of course, it's not Harry Potter-themed without the famous Butterbeer. The Dining Master and Mixologist, Mark Anthony Marquez, has created the frothy mug to perfection!
Are you going to take out those dress robes and gowns and celebrate Christmas time in the most magical event known to Wizarding kind? Share this post if you're as excited as we are!
For Yule Ball reservations and inquiries please call Eis Garcia, Chief Operations Officer (COO), Patronus Events, Inc.: (+63917) 636 2272 or e-mail [email protected] or call Jio Capinpin, Chief Operations Officer (COO), Plato PH: (+63917) 580 5883.