The kids of Stranger Things have undoubtedly grown up in Season 3, but there's a new kid rising and taking their spotlight.
"You can't spell 'America' without Erica."
At the end of Season 3, we see Lucas and Dustin passing on their favorite Dungeons and Dragons board game to Lucas' little sister, Erica Sinclair. It was a pretty symbolic moment as it could mean that the kids we have come to know and love are ready to move on and become teenagers. It could also (hopefully) mean that Erica could become the new generation of 'nerds' that will take over and save Hawkins.
(Team Scoops Troop forever!)
Well, whatever it means, we're loving the idea of the sassy, quick-witted Erica to have more screentime. She easily became a fan favorite last season for her iconic remarks and perfect comedic timing.
Without giving away too much about what went down this season 3, we can tell you that Erica is getting a bigger role this season. She has become one of the most relatable characters, from her hilarious facial expressions to her major contributions in saving Hawkins—we're sure that Erica Sinclair will grow on you as you binge-watch Stranger Things 3!
Luckily, we had the opportunity to get to know Priah Ferguson, the 12-year-old actress playing Erica Sinclair. Here's how our Q&A with her went:
How did your career in acting come about?
I've always had an outgoing personality and an old soul. My parents noticed it, so they enrolled me in various camps, acting classes, and local theatre. I landed an agent around the age of 7, started auditioning and booking a few roles for television, but short films really helped show my range as an actor.
You found out about Stranger Things because of your sister, right?
Yes.
How did she react when you got the news about landing the role?
My little sister is a huge fan of horror movies, she told me about Stranger Things first. She was very happy for me and shocked. She often says, "I just can't believe Priah is on an international show!" We always celebrate each other's accomplishments. I'm proud of her too.
What do you like about your character, Erica Sinclair?
Erica is very intelligent, witty, and stylish. She's from a small town and there aren't many kids who look like her, but she doesn't water herself down because of that. She is confident about using her voice and a little ahead of her times for the '80s.
Did you expect Erica to land a bigger role in the series? What was your initial reaction upon finding out that you were going to be part of the main cast this season?
Erica was only supposed to be in one or two episodes for Season 2. I didn't expect any of this. I only wanted to do my best work. My mom and I read they were planning on expanding my role, but we thought the story was fake (laugh). Then my agents called to share the news, so I was really shocked and couldn't believe it. It still feels surreal.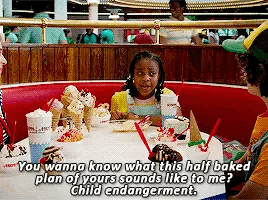 Could you give the readers a hint to Erica's role in Season 3?
It will be bigger. She is working with her squad on a mission to save Hawkins. That's about all I can really share.
How similar and/or different are you with Erica?
Erica and I are both history lovers, we love nail polish, and we're planners. Math is her favorite subject and that's definitely not mine (laugh).
What are the biggest priorities in your career?
People know my comedic work from Stranger Things, but I love to portray serious characters too. Right now, I'm just enjoying the moment. I'm writing more, I'd love to be part unique stories, and I'd like to create a performing arts center for children in underserved communities. It's also important for me to stay kind through it all.
Do you find yourself having difficulties landing roles?
Well, I try to stay consistent in my work and auditions. So even if I don't book a role, it doesn't mean my work wasn't solid. My parents have taught me that this is a business too, so I can't take it personally. I just believe something meant just for me is on the way. Auditioning may be a little bit easier after the Stranger Things 3 comes out, but I still have to work.
Could you tell us about your next project?
At the moment, there are so many things happening with Stranger Things 3. I am writing more and I've been introduced to some projects I'd like to be part of, so we'll see.
What do you hope young girls take away from your journey as an actress or your characters?
No matter how things may look, it only takes one yes to get you in the right direction. Just like my character Erica. She trusts herself enough to take risks, but she prepares too.

Photo by Elton Anderson
Styling by Apuje Kalu
Hair by Randy Stodghill
Makeup by Rebekah Aladdin